Together with You
和你在一起
CHEN Kaige | 陈凯歌
China | 116 minutes | 2002 | Fiction | Mandarin Chinese | English Subtitles | 14A | 35mm Film
中国 | 116 分钟 | 2002 | 虚构 | 普通话 | 英文字幕 | 14A | 35毫米胶片电影
The 50th San Sebastián International Film Festival
Best Director (Silver Shell), Best Actor (Silver Shell)
第50届圣塞瓦斯蒂安国际电影节
最佳导演(银贝壳)、最佳男主角(银贝壳)
7:00 – 9:15 PM, TUE, SEPT 18
INNIS TOWN HALL
Screening
Cheng is proud of Xiaochun, his 13-year-old son and a violin prodigy. To pursue more advanced studies in performance, they leave their small town for Beijing. In the metropolis, Xiaochun hones his skills under Professor Jiang and develop a close friendship with his teacher. He also meets a charming neighbour girl, Lili, and learns the true meaning of love and friendship.
Cheng soon finds him a more prestigious teacher, Professor Yu, believing that Yu is able to bring Xiaochun to fame and success. Professor Yu puts Xiaochun and his other favourite student in a contest for the only spot to an international competition. On the eve of this extremely important performance, Xiaochun learns a secret about his true birth.
13岁的天才小提琴少年刘小春(唐韵)与父亲刘成(刘佩琦)一起生活在江南小镇。为了让小春接受更好的音乐教育,刘成带着他来到北京,先是求学于脾气古怪、邋里邋遢的江教授(王志文)。小春与江教授磕磕绊绊,终是结下了不易得的缘分。而学琴之余,小春对漂亮邻居莉莉(陈红)萌生了爱恋,为此刘成十分担忧。
一个偶然的机会,刘成遇到了大名鼎鼎的余教授(陈凯歌),并费尽周折说服了他收小春为徒。小春的到来让余教授之前最看好的学生倍感压力与不公;另一方面,刘成看到小春慢慢走向更大的舞台,觉得自己已经不能陪在他身旁了……
Director 导演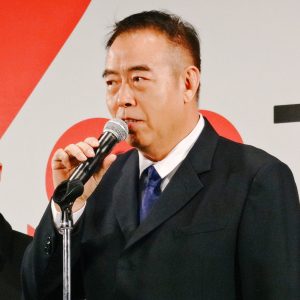 CHEN Kaige is a leading figure of the fifth generation of Chinese cinema. He made his directorial debut with Yellow Earth ('84) and achieved an international success with Farewell My Concubine ('93), which earned him the Palme d'Or at Cannes and has remained the best Chinese-language film of all times on the Chinese film review site Douban. Legend of the Demon Cat ('17) is his latest and most ambitious feature.
陈凯歌是中国第五代电影导演中的领军人物。 他的导演处女作是《黄土地》(1984),为第五代的标志性电影之一。《霸王别姬》(1993)在戛纳电影节上斩获金棕榈奖,令他在国际上名声大噪,而这部电影也一直是豆瓣上许多影迷心目中的最佳华语电影。《妖猫传》(2017)是他最新、也是最具雄心的作品。
Credits 演职员名单
Director 导演:CHEN Kaige 陈凯歌
Principal Cast 主演:LIU Peiqi 刘佩琦、TANG Yun 唐韵、CHEN Hong 陈红、WANG Zhiwen 王志文、CHEN Kaige 陈凯歌
Producer 监制:TONG Gang 童刚、CHEN Hong 陈红
Executive Producer 出品人:YANG Buting 杨步亭、YAN Xiaoming 阎晓明、LI Bolun 李博伦、CHEN Kaige 陈凯歌
Screenplay 编剧:CHEN Kaige 陈凯歌、XUE Xiaolu 薛晓路
Cinematographer 摄影:KIM Hyungkoo 金炯求
Editor 剪辑:ZHOU Ying 周影
Production Designer 艺术指导:CAO Jiuping 曹久平、LIU Luyi 刘路一
Music 音乐:ZHAO Lin 赵麟
Courtesy of the National Film and Sound Archive of Australia