A Simple Life
桃姐
Ann HUI | 许鞍华
Hong Kong | 118 minutes | 2011 | Fiction | Cantonese Chinese | Chinese and English Subtitles | PG
中国香港 | 118分钟 | 2011 | 虚构 | 粤语 | 中英文字幕 | PG
The 68th Venice Film Festival – Best Actress
第68届威尼斯电影节 – 最佳女演员
The 31st Hong Kong Film Awards – Best Picture, Best Director, Best Screenplay, Best Actress, Best Actor
第31届香港电影金像奖 – 最佳电影、最佳导演、最佳编剧、最佳女演员、最佳男演员
The 48th Taipei Golden Horse Film Festival – Best Director, Best Actress, Best Actor
第48届台北金马影展 – 最佳导演、最佳男演员、最佳女演员
7:30 – 9:30 PM, SUN, AUG 12
Innis Town Hall
Screening
When Ah Tao (Deanie IP), a servant to the Leung family for nearly 60 years, suffers a stroke, she decides to quit her job and move into a local nursing home.  The man she cared for since he was a boy, Roger (Andy LAU), takes it upon himself to help her adjust to her new life, which involves getting to know her new nursing home family, a motley crew of unique and quirky residents.  As Ah Tao's health deteriorates, roles reverse, with Roger now taking charge of her care.
Director 导演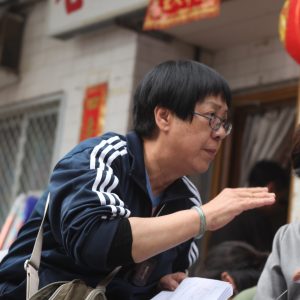 Ann HUI was born in Anshan, Liaoning Province, China in 1947 and later immigrated to Hong Kong with her family.  After graduating from the University of Hong Kong, she completed a special course on film in the U.K., then returned to Hong Kong as the assistant to the master of Chinese martial arts films, King HU.  In 1979, she made her directorial debut with The Secret and soon became a leader in the "Hong Kong New Wave" film movement.  Noted works include Boat People, The Story of Woo Viet and The Song of Exile.
Credits 演职员名单
Director 导演:Ann HUI 许鞍华
Principal Cast 主演:Deanie IP 叶德娴、 Andy LAU 刘德华
Executive Producer 执行制片人:YU Dong 于冬、Andy LAU 刘德华、SONG Dai 宋岱
Producer 制片人:CHAN Pui-Wah 陈佩华、Ann HUI 许鞍华、Roger LEE 李恩霖
Screenplay 编剧:Susan CHAN 陈淑贤、Roger LEE 李恩霖
Cinematographer 摄影:YU Lik-Wai 余力为
Editor 剪辑:Eric KWONG Chi-Leung (H.K.S.E) 邝志良、Manda WAI 韦淑芬
Production Designer 艺术指导:Albert POON 潘燚森
Sound 音效:TU Duu-Chih 杜笃之
Music 音乐:LAW Wing-Fai 罗永辉
The Made by Women programme is funded by the Government of Ontario.