American Revolutionary: The Evolution of Grace Lee Boggs
美国革命家:陈玉平的演进
Grace Lee
82 minutes | 2013 | Documentary | English
The 11th AFI Docs Documentary Film Festival – Best of The Fest
The 17th Toronto Reel Asian International Film Festival – Best Feature
3:00 PM, Sat Dec 3
Innis Town Hall
Screening
Grace Lee Boggs is a 98-year-old Chinese American woman whose vision of revolution will surprise you. A writer, activist, and philosopher rooted for more than 70 years in the African American movement, she has devoted her life to an evolving revolution that encompasses the contradictions of America's past and its potentially radical future.
The documentary plunges us into Boggs's lifetime of vital thinking and action, traversing the major U.S. social movements of the last century: from labor to civil rights, to Black Power, feminism, the Asian American and environmental justice movements and beyond. Boggs's constantly evolving strategy—her willingness to re-evaluate and change tactics in relation to the world shifting around her—drives the story forward.
As she wrestles with a Detroit in ongoing transition, contradictions of violence and non-violence, Malcolm X and Martin Luther King, the 1967 rebellions, and non-linear notions of time and history, Boggs emerges with an approach that is radical in its simplicity and clarity: revolution is not an act of aggression or merely a protest. Revolution, Boggs says, is about something deeper within the human experience—the ability to transform oneself to transform the world.
Director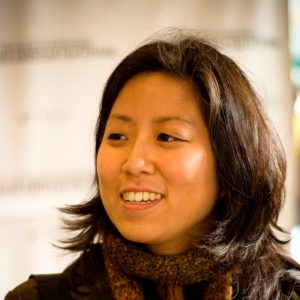 Grace Lee is an independent filmmaker who most recently produced and directed two episodes of the Peabody Award-winning Asian Americans (2020) series as well as And She Could Be Next (2020), POV's first broadcast series about women of color transforming politics and civic engagement, which was nominated for an NAACP Image Award. Other credits include The Grace Lee Project (2005), Makers: Women in Politics (2014), Off the Menu: Asian America (2015) and K-Town'92 (2017), an interactive online project about the 1992 Los Angeles civil unrest. She is the Co-Founder of the Asian American Documentary Network (A-Doc). She is also the host and executive producer of a podcast investigating systemic inequities at PBS called Viewers Like Us.
Credits
Director: Grace Lee
Producer: Grace Lee, Caroline Libresco, Austin Wilkin
Executive Producer: Joan Huang
Cinematographer: Jerry Henry, Quyen Tran
Editor: Kim Roberts
Music: Vivek Maddala