Bangzi Melody
村戏
ZHENG Dasheng | 郑大圣
China | 100 minutes | 2017 | Fiction | Chinese Regional Dialect | English and Chinese Subtitles | 14A
中国 | 100 分钟 | 2017 | 虚构 | 河北井陉话 | 中英文字幕 | 14A
North American Premiere 北美首映
31st Golden Rooster Awards – Best Cinematography
第31届中国电影金鸡奖 – 最佳摄影
4:00 – 6:30 PM, SAT, AUG 11
Isabel Bader Theatre
Screening + Panel Talk
In the 1980s, with the end of the Cultural Revolution, China has begun a vast land reform in its rural areas to launch the so-called household-responsibility system, which aims at ending the egalitarian distribution method performed in Maoist China.
1982, a small village in the Hebei Province of North China. With the Spring Festival approaching, Party Secretary Wang asks the villagers to rehearse a classic bangzi opera to impress visiting cadres. The rehearsal, led by Uncle Lu, becomes entangled with land-dividing. The best, most coveted peanut field has been long guarded by Kuisheng, the "Mad Man" of the village. All the villagers then try to put him into exile, except the kind-hearted Xiaofen, Lu's daughter, who is in love with Kuisheng's son, Shuman.
Shot in black and white with great humanistic spirit, Bangzi Melody recounts the personal sufferings, political gambling and historical ambiguities as a microcosm of rural China during the land reform.
《村戏》改编自作家贾大山的短篇小说。故事发生在1982年的河北农村,包产到户前。春节将临,县领导要来视察,王支书要村里恢复演出老戏。排戏的任务落在了"戏篓子"路老鹤的身上。他安排杨志刚和女儿路小芬一起主演《打金枝》,小芬却极不情愿。
小芬的意中人是"奎疯子"的儿子王树满。"奎疯子"看守着村里最好的花生田"九亩半"——谁都眼红,谁都想在分地的时候抢占。"排戏""分地"在戏里戏外交织,牵出一段集体与个人的历史悲剧。
Director 导演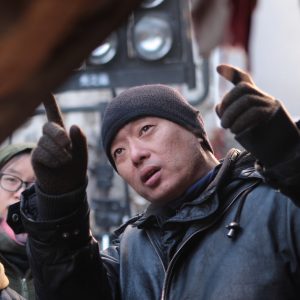 Film and theatre director ZHENG Dasheng was born in a literary family in Shanghai. He earned his undergraduate degree from the Shanghai Theatre Academy before receiving his MFA in filmmaking at the School of the Art Institute of Chicago. Greatly influenced by his grandfather HUANG Zuolin (veteran filmmaker and playwright) and mother HUANG Shuqin (a renowned fourth-generation director), he approaches the art of cinema with great humanistic concern and rich historical reflection. His 2012 feature Falling City was in the Official Selection of the 36th Montreal World Film Festival. Bangzi Melody is his latest feature.
郑大圣,上海戏剧学院导演系本科,美国芝加哥艺术学院硕士。他出生于上海的一个电影世家,外祖父是电影和戏剧艺术家黄佐临,外婆是舞台银幕双栖明星丹尼,母亲是第四代导演黄蜀芹,父亲郑长符是美工师。郑大圣导演的电影多取材于历史,自成一格。他的《危城之恋》(2012)入选了蒙特利尔世界电影节;最新作品《村戏》入围了塔林黑夜电影节主竞赛单元、平遥国际电影展和台北金马影展。
Credits 演职员名单
Director 导演:ZHENG Dasheng 郑大圣
Executive Producer 执行制片人:

ZHU Bin 朱斌

Original Novel 小说原著:JIA Dashan 贾大山
Screenplay 编剧:LI Baoluo 李保罗
Cinematographer 摄影:SHAO Dan 邵丹
Editor 剪辑:CHEN Xiaohong 陈晓红
Production Designer 艺术指导:YANG Zhiwen 杨志文
Sound 音效:GE Weijia 葛伟家
Music 音乐:LI Qi 李琪