A Wolf on Watch
一匹狼在放哨
Dasung
103 minutes | 2022 | Fiction | Mandarin | English Subtitles
International Premiere
Content Advisory: This film contains mature themes, sexual language, coarse language, tobacco use, lighting that may affect photosensitive viewers, disturbing content and violent themes.
8:00 PM, SAT, AUG 13
Innis Town Hall
Screening + Recorded Q&A with Director
WANG Wei (WANG Yaode), an intern about to go on a business trip, is illegally detained by a neighbor couple with a gangster. After a night of struggle, he finally escapes the control of the outlaws and regains his freedom. Based on a true event, this film explores the boundaries of mise-en-scène and performance within a confined space on an extremely low budget.
Director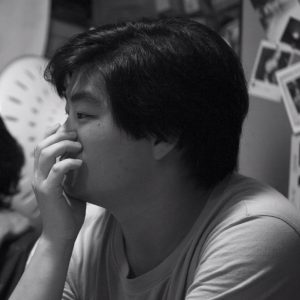 Born in 1992, Dasung graduated from Northwest Minzu University (China) with a major in Digital Media Art in 2015. He has been working in various capacities such as screenwriter, director, cinematographer and editor. In 2018, he served as cinematographer and editor for the short film Poem for a Distant Village (2021 Cairo, 2021 Pingyao). In 2020, he served as executive director for the feature film Love, My Way (2021 Pingyao WIP Lab "Wings Project Award", 2023 Shanghai "Asian New Talent" nominee). A Wolf on Watch is his debut feature and was selected to compete at the 16th FIRST International Film Festival (Xining, China). In 2023, he wrote and directed Farewell, Starry Night.
Credits
Director

: Dasung

Principal Cast

: WANG Yaode, WANG Qing, ZHANG Zhiyong, YUAN Liguo

Producer

: LU Xiaowei

Screenplay

: Dasung

Cinematographer

: CHEN Shaofeng

Production Designer

: WANG Donghe

Editor

: Dasung

Sound

: MA Cong

Music

: MA Cong

Art Consultant

: HOU Yingjue