Kissing the Ground You Walked on
海鸥来过的房间
HONG Heng Fai
94 minutes | 2022 | Fiction | Cantonese | English and Chinese Subtitles
North American Premiere
Content Advisory: This film contains implied sexual content and tobacco use.
59th Golden Horse Awards—Best New Director Nomination, Best Cinematography Nomination, Best Sound Effect Nomination
9:15 PM, FRI, AUG 18
Innis Town Hall
Screening+ Zoom Live Q&A with Director
The writer Chao (WONG Pak Hou), who has long slid into obscurity, leads a quiet life managing a small real estate agency. An old friend pays a visit and urges him to pick up the pen again. Meanwhile, the young theatre actor Chong (LAM Sheung) rents the other room in Chao's apartment. Day after day, Chong delves into Chekhov's The Seagull, and within the crevices of light and shadow, his every action falls under Chao's gaze. The boundaries between reality and fiction start to vanish.
Director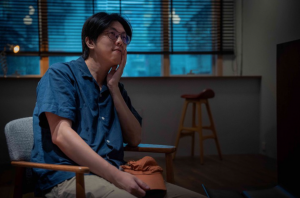 HONG Heng Fai, a Macau native, works in both film and theatre. He has directed several short films, including Crash (2016), which won awards at the Bucheon International Fantastic Film Festival, South Taiwan Film Festival, China Independent Film Festival, Firenze FilmCorti Festival, and was nominated for Best Short Film at the 53rd Taipei Golden Horse Film Festival. His debut feature Kissing the Ground You Walked on was nominated for Best New Director, Best Cinematography, and Best Sound Effects at the 59th Taipei Golden Horse Awards.
Credits
Director

: HONG Heng Fai

Principal Cast

: WONG Pak Hou, LAM Sheung

Producer

: Gene YAO, HONG Heng Fai

Screenplay

: HONG Heng Fai, Emmy IP

Cinematographer

: Charlie SOU Wai Kin

Production Designer

: Paula LO Pou I

Costume Designer

: LAM Ka Pik

Editor

: HONG Heng Fai

Sound

: Ellison LAU

Music

: Ellison LAU