Talks Overnight
长谈
SU Qiqi
76 mins | 2023 | Fiction | Mandarin | English and Chinese Subtitles
International Premiere
Content Advisory: this film contains scenes of tobacco use.
5:30 PM, SUN, AUG 13
Innis Town Hall
Screening + Zoom Live Q&A with Director
They do everything together: they read poetry, have breakfast, see friends, argue with each other, comfort each other, and share their childhood and past memories. With imagination, they introspect in solitude and find solace in intimacy. At the beginning of the 2020s, the world seemed to be in a state of chaos and disorder, where individuals slipped into depression and confusion. The middle-aged intellectual couple engage in one "long talk" and strive to express with words, even if it means stepping into the greater unknown. However, expression and communication, imagination and poetry, are already the basis for something deeper.
Director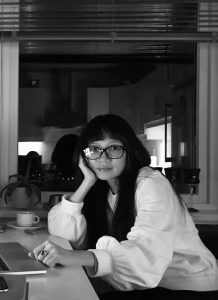 SU Qiqi is a film critic, curator and university professor. Over the years, she has been working actively to promote Chinese independent cinema. She also co-produced the award-winning titles including The Cloud in Her Room (2020 Rotterdam Tiger Award) and A New Old Play (2021 Locarno Special Jury Award). Talks Overnight is her directorial debut.
Credits
Director

: SU Qiqi

Principal Cast

: SU Qiqi, MA Yuebo, WANG Yinjie, CHEN Yuantao, XIAO Er, GU Ling, YANG Lan, JIA Jia, FENG Fang, LIU Yun

Producer

: ZHAO Jin, YANG Xinru, MA Yuebo 

Screenplay

: SU Qiqi

Cinematographer

: ZHANG Zheng'an

Editor

: QIN Ya'nan

Sound

: HUANG Sheren

Music

: MA Zhengmo