Have A Good Night
安稳觉
JIANG Hongyu
126 minutes | 2019 | Fiction | Sichuanese Dialect and Mandarin | Chinese and English Subtitles
Content Advisory: This film contains scenes of tobacco use, language that may offend, nudity and sexual content. It is not appropriate for children or young audiences.
7:30 PM, SUN, March 20
Innis Town Hall
Screening
To all patrons: In addition to wearing a mask while indoor, the venue also requires each patron to show a valid Ontario Vaccine QR Code and verbally answer some screening questions. The venue will be operating at ~50% capacity.
Limitation of Liability: Any public space where people come together produces a risk of exposure to the coronavirus (COVID-19). You voluntarily assume all the risks related to such exposure when attending our events.
Working on his film to be submitted to film festivals, Yuhao returns to Chengdu during the Qingming Festival (the Chinese Ancestors' Day). He is shooting a documentary about his same-sex lover, Hongyu, and himself. Accompanying Yuhao is Boxuan, the cameraman of this shoot.
From the moment Hongyu picks them up at the train station, Yuhao and Boxuan start rolling — Yuhao has already told Boxuan that he has talked it through with Hongyu, and Hongyu would always be acting his part.
Yet Hongyu appears to oppose to be on camera and to the presence of Boxuan, which makes Boxuan waver. At the same time, Yuhao starts to have Boxuan film their sex life…
Director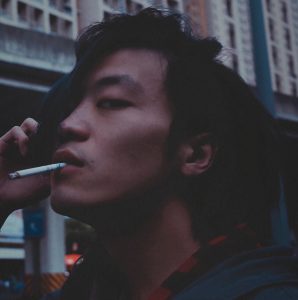 JIANG Hongyu was born in 1996 in Chengdu, Sichuan, China. He is a director, actor, and scriptwriter. He started to realize his interest in movies after graduating from junior high school. He worked on more than ten shorts since 2012. Have a Good Night (An Wen Jiao) is his debut feature, which he wrote, directed, and played the lead actor. 
Credits
Director: JIANG Hongyu
Principal Cast: JIANG Hongyu, CHEN Yuhao, LI Boxuan, CHEN Yusha
Producer: Annie SONG, Yuz HAN
Co-Producer: Jean-François Even
Screenplay: JIANG Hongyu
Co-Writers: Annie SONG, Yuz Han
Cinematographer: LI Boxuan, CHEN Yuhao
Sound: LI Xinze
Music: François Crépu