SHe
女他
ZHOU Shengwei (In Attendance) | 周圣崴(出席)
China | 95 minutes | 2018 | Stop Motion Animated Film | 18A
中国|95 分钟|2018|定格动画 | 18A
Toronto Premiere 多伦多首映
SAT, AUG 10, 4:45 – 7:00 PM
Innis Town Hall
Screening With
Prey
(6min, Animated Short Film)
Screening + Panel Talk
In a totalitarian and male chauvinist world, a female high-heeled shoe named HUA Mulan rebels against the baby shoe factory to protect her baby girl from being transformed into a male shoe. To raise her daughter, she later has to disguise herself as a male sturdy shoe and works day and night in a capitalist cigarette factory. The story is not only about a mother's sacrifice and a feminist's revenge, but also has a political undertone of the intoxication of power.
SHe is ZHOU Shengwei's debut feature, completed in six years. He built this surreal world with a massive number of recycled everyday objects, and the film is composed of over 58,000 photos.
在一个由男鞋掌权的世界里,女鞋完全被当作生育机器,而她们生下的女鞋都将经过改造,成为男鞋。一只名为花木兰的高跟女鞋为了保护女儿,毅然推翻了这个"生育工厂"。然而为了将女儿养大,她不得不伪装成男鞋,进入卷烟厂工作……这一切不仅仅是关于一位母亲的牺牲、一位女性主义者的复仇,也饱含权力令人迷醉之隐喻。
《女他》是周圣崴导演的首部动画长片,历时六年制作完成。他用了大量回收而来的的生活用品来创造了这个离奇荒诞的世界,全片由58000多张照片组成。
Director 导演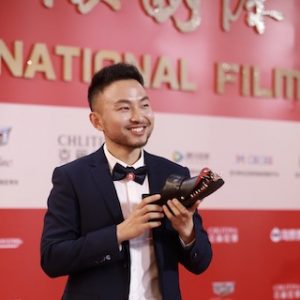 Born in 1991 in Hunan Province, ZHOU Shengwei is now a Beijing-based director, animator and artist. He graduated from the School of Arts in Peking University in 2009. SHe was selected to the 21st Shanghai International Film Festival and the 24th L'Étrange Festival in Paris. The props used in SHe was also exhibited at the Onehome Hotel, Shanghai.
周圣崴,青年艺术家、导演,1991年生于中国湖南,本硕毕业于北京大学。代表作《女他》提名第21届上海国际电影节最佳动画长片、入围第24届巴黎诡奇电影节新生代单元。《女他》装置艺术展亦于上海万和昊美艺术酒店展出。
Credits 演职员名单
Director 导演:ZHOU Shengwei 周圣崴
Producer 制片人:ZHOU Shengwei 周圣崴、LI Yujian 李雨谏
Executive Producer 监制:PENG Feng 彭锋
Voice Actress 配音:LU Fuyang as HUA Mulan 吕伏阳(花木兰)
Screenplay 编剧:ZHOU Shengwei 周圣崴
Cinematographer 摄影:ZHOU Shengwei 周圣崴
Editor 剪辑:ZHOU Shengwei 周圣崴
Production Designer 美术设计:ZHOU Shengwei 周圣崴
Sound 音效:HAN Ruida 韩睿达
Music 音乐:YUAN Sihan 袁思翰