Spring Tide
春潮
YANG Lina
124 minutes | 2019 | Fiction | Mandarin Chinese | English Subtitles
7 PM, SAT, AUG 13
Innis Town Hall
Screening
Guo Jianbo (HAO Lei), her mother and her daughter live in the same flat. Jianbo is a journalist specializing in social news. Much of the reporting she does on social issues causes her great pain and agony.
Her retired mother (Elaine JIN Yan-ling) helps out in the local community. She is warm and friendly to all the residents and people in that community and regularly organizes singing competitions.
But there exists an invisible glass wall between Guo Jianbo and her mother. Jianbo's daughter grows up and develops her character in the cracks of that invisible screen. The family ties that bind the three together and the nature of the times in which they each grew up have seeped into their veins like a deadly poison.
Three generations. Three different contexts. Each of them has their own way of escaping from the reality around them, only to inevitably clash from time to time. After a particularly serious confrontation, Jianbo's mother is admitted to hospital and peace returns to their lives.
Amongst all the anxiety and hurt brought about by Jianbo's father, their experiences of the past and worries for the future, there is a glimpse of reconciliation and a glimmer of hope.
Director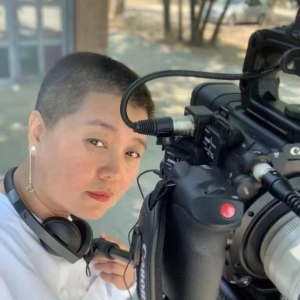 YANG Lina is a leading independent documentary filmmaker in China, jury of several international film festivals. She was a professional dancer.
Old Men (1999) is her first documentary and the first DV documentary in China, which has won SCAM Prize at Cinema du Reel, Award of Excellence at Yamagata Documentary Film Festival, Golden Dove of Peace Prize at Leipzig Documentary Film Festival. Her other award-winning documentaries include Home Video (2000 Leipzig), Let's Dance Together (2007), My Neighbors and Their Japanese Ghosts (2008 HKIFF), The Love Story of Lao An (2008 HKIFF), and Wild Grass (2009). She has also completed a women trilogy of fiction films like Longging for the Rain (2013 Rotterdam), Spring Tide (2019 Shanghai), and Song of Spring (aka Mother, 2022)
Credits
Director: YANG Lina
Principal Cast: HAO Lei, Elaine JIN Yan-ling, HUANG Shang-he, LI Wenbo, QU Junxi
Producer: LI Yaping, CHENG Quinsong

Executive Producer: LIAO Ching-Song, Shozo Ichiyama
Screenplay: YANG Lina
Cinematographer: Jake Pollock
Editor: LIAO Ching-Sung, SONG Bing, XIA Liang
Sound: Duu-Chih Tu, Yi-Chen Chiang

Music: Yoshihiro Hanno