PORTRAITS OF THE YOUNG 青年肖像
Taming the Horse
驯马
GU Tao | 古涛
Canada | 124 minutes | 2017 | Documentary | Mandarin Chinese | English Subtitles | 14A
加拿大 | 124 分钟 | 2017 | 纪录片 | 普通话 | 英文字幕 | 14A
Toronto Premiere 多伦多首映
The 20th Montreal International Documentary Festival (RIDM) – Grand Prize For Best Canadian Feature
第20届蒙特利尔国际纪录片电影节 – 加拿大长片大奖
The 39th Festival des 3 Continents, Nantes – Montgolfière d'or
第39届南特三大洲电影节 – 金气球大奖
12:00 – 2:30 PM, SAT, AUG 11
Innis Town Hall
Screening + Panel Talk
Growing up on the wind-blown plains of Inner Mongolia, Dong developed an unbridled spirit and a belief in the virtues of simple living. When his family, like millions of others during China's economic reform, migrated south seeking opportunity, Dong's spirited ideals were at odds with the values of a rapidly modernizing society in the early throws of consumerist frenzy. More than a decade later, Dong is a dreamer who has lost his way, a loser in derision, spiritually alienated and socially troubled—a listless young adult battling bouts of depression and substance abuse without a sense of place or purpose in his own society.
When an old friend and filmmaker returns to the city with a video camera in hand on the eve of Dong's 30th birthday, something in him stirs and he begins pouring out his most intimate thoughts. Over the course of a year, filmmaker GU Tao accompanies Dong in his struggles with family and society, sex and love, identity and survival as a young man in modern China. The resulting portrait is of a difficult and divisive young man; a sympathetic record on the human condition in contemporary China; a raw cry for truth, a longing for a better life.
作者古涛为了履行十年前的一个约定,计划带着摄影机陪伴他的朋友冬冬返回他远在北方呼伦贝尔大草原的内蒙故乡海拉尔。临行前他在中国南方城市昆明、广东近一年的拍摄记录下冬冬在他生命的特殊转折期所面临的家庭伦理、金钱、生存、性与爱情的困境。
一个失去故乡的边缘人,一个生活中被贬抑的失败者,一个对理想有偏执幻想的做梦者。渴望精神上"不惑"的生活,却深陷现实和人性的泥淖无法自拔。
这是一部人物颇具争议性的纪录片,是一个当代中国青年的特殊切片,也是一个颇具时代特征的生动镜像。片中的每一个人物也代表了当代中国不同年龄阶层在时代潮流下的生态,以及他们颇具人性温度的人生姿态和尊严。
作者与人物冬冬的返乡之途,是友情和情义的践约,也是对过去生活记忆的回溯。在碎片化时代击碎了每一个人的记忆和心底的家园的境况下,返乡之途与人物冬冬的命运一样注定是困难的,作者古涛在整部影片的旅程中描绘了一个充满悲剧隐喻的人生过程:驯服即命运,命运即驯服。
Director 导演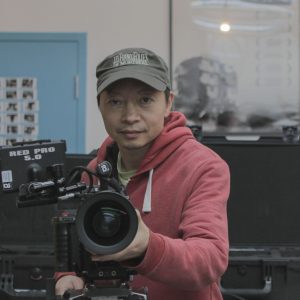 GU Tao was born in Wenchuan, Sichuan Province in China. He initiated his artistic endeavours in 1998 as an experimental radio host in China, and soon after began exploring a variety of creative media. From 2004 to 2007, he studied in Mel Hoppenheim School of Cinema, Concordia University in Montreal, Canada, majoring in Film Production. Upon his arrival in Canada, his cinematic work shifted towards experimental filmmaking. The films he created have been shown in over 60 film/art festivals worldwide, including Yamagata International Documentary Film Festival, Sundance Film Festival, International Film Festival Rotterdam, Toronto International Film Festival, and won numerous world-renowned prizes including the "Special Jury Prize" at International Short Film Festival-Clermont-Ferrand, "Best Director" at Curta Cinema Rio de Janeiro, Brazil, "Canadian Top 10" at Toronto International Film Festival. The Globe and Mail complimented Tao's film as "the high-art side of Canada's Sundance roster" (Guy, Dixon, Jan. 20, 2011).
古涛毕业于加拿大考迪亚大学Hoppenheim电影学院电影制作系。

他的实验电影《On the Way to the Sea》受邀映演于美国日舞影展、荷兰鹿特丹国际电影节、日本山形纪录片影展、美国迈阿密Perez Art美术馆等全球四十多个影展并获得多座奖项,例如法国克雷蒙费宏国际短片影展实验电影单元评审团特别奖,并被多伦多国际电影节评为2010年度加拿大十佳短片。

身为电影作者,古涛也参与纪录片的剪辑工作。剪辑作品纪录长片《最后的春光》获得2011年荷兰阿姆斯特丹国际纪录片影展最佳处女作奖、2011年加拿大蒙特利尔国际纪录片影展最佳新人奖,2012年法国真实影展最佳处女作奖,并于2012年台湾国际纪录片影展映演。

《驯马》是古涛的首部纪录长片,获得加拿大蒙特利尔国际纪录片影展最佳加拿大长片奖,法国南特影展最佳影片金热气球奖,并入围2017年瑞士真实影展国际竞赛单元、德国莱比锡纪录片与动画影展国际单元。
Credits 演职员名单
Director 导演:GU Tao 古涛
Producer 制片人:YANG Aonan 杨奥楠、YU Xun 余迅、GU Tao 古涛
Cinematographer 摄影:YU Xun 余迅
Editor 剪辑:GU Tao 古涛
Sound 音效:Catherine Van Der Donckt