The Little Shrimp
何虾仔
CHEN Zhilin "Chilam" (In Attendance) | 陈志霖(出席)
China | 62 minutes | 2019 | Fiction | Cantonese | English and Chinese Subtitles | PG
中国|62分钟|2019|虚构|粤语|中英文字幕 | PG
World Premiere 全球首映
Cheng (Andy CHOI), who goes to college in Boston, returns to the muggy Guangzhou on his final summer break. To his dismay, his maternal grandfather has died but no one in the family, including his mother (Crystal LEE), is willing to talk about it or their feelings. His elder sister Yam (Isabelle CHAN), locks herself every day in her room and smokes. His father (James AU) is always busy on the phone to take bets from sports gamblers. The family of four will soon move to a new place, but a shadow of estrangement looms above them. Getting drenched in sweat, sometimes by rain, Cheng discovers a melancholy reality, both old and new, in a city he calls home.
The Little Shrimp is Chilam's debut feature, completed as a requirement for his MFA degree earned at Emerson College. "Little Shrimp" (haa-zai), as he explained, is a name for the nameless whose identities are defined by their family and social roles.
留学波士顿的何伟城(蔡浩洋),在大学最后一年的暑假返回闷热潮湿的广州。让他惊诧的是,外公过世一事,家中竟无一人愿意讲起,或者谈论他们的感受,甚至连母亲(李佩贞)也闭口不提。而他的姐姐何淑然(陈海宁),日日把自己关在房间抽烟。他的父亲(区绍熙)则整日忙于帮赌球的人电话下注。这个四口之家马上就要搬迁到新屋,然而他们的屋檐似有疏离之影笼罩。常常汗流浃背,有时在雨中湿透,何伟城在这个被他视为家的城市里触碰着忧沉的现实,如新,似旧。
《何虾仔》是陈志霖的长片处女作,也是他在爱默生学院的硕士毕业作品。"虾仔",按他的解释,是所有没有自我的成年人的名字——他们由自己在家族中的角色所定义。
Director 导演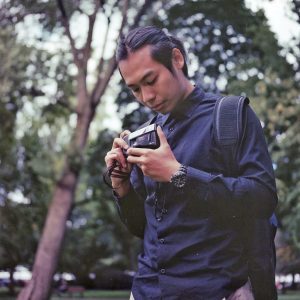 Born and raised in Guangzhou, CHEN Zhilin "Chilam" is a director, writer and cinematographer. He recently graduated from Emerson College with an MFA degree in Film & Media Art. His filmography includes short films Master Choi (2016), Kidnapee (2017) and the experimental Self (2018). The Little Shrimp is his debut feature, completed in spring, 2019.
陈志霖,广州人,2019年毕业于爱默生学院,获艺术创作硕士学位。其独立导演的作品有短片《蔡师傅》(2016)、《肉票》(2017),实验短片《自我》(2018)。《何虾仔》完成于2019年春,是他的长片处女作。
Credits 演职员名单
Director 导演:CHEN Zhilin "Chilam" (in attendance) 陈志霖(出席)
Principal Cast 主演:James AU 区绍熙、Crystal LEE李佩贞、Andy CHOI 蔡浩洋、Isabelle CHAN 陈海宁
Co-Producer 出品人:MA Runlian

马润连、

CHEN Jianshen 陈鉴深
Producer 制片人:MEI Lili 梅莉莉
Screenplay 编剧:CHEN Zhilin "Chilam" 陈志霖
Cinematographer 摄影:WANG Haoyang 汪昊洋
Editor 剪辑:YANG Xueyi 杨雪仪
Production Designer 美术指导:Nico YU 于宝珩
Sound 音效:LI Hao 李好