My Zombie Grandpa
我的僵尸外公
QIAN Ning
18 minutes | 2022 | Fiction | Mandarin | English and Chinese Subtitles
North American Premiere
Content Advisory: This film contains some frightening scenes and may not be suitable for small children.
Grandpa's escape from the nursing home sets off a quest for Hui-Nan and her son, A-Huan. On the outskirts, A-Huan confronts a horde of elderly turned into zombies. His perilous evasion of the undead blends with memories of Grandpa, abandoned by the family due to illness. Laden with guilt, A-Huan bravely faces Grandpa who no longer recognizes him.
Director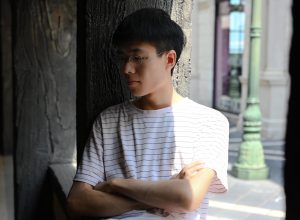 QIAN Ning was born in 1997 in Zhejiang, China. He graduated from the Filmmaking Department of Taiwan National University of Arts, majoring in Film Directing. He is also an alumnus of the Golden Horse Film Academy. His short film My Zombie Grandpa (2022) premiered at the Kaohsiung Film Festival and was selected to the Zlín Film Festival. His short film Fluffy Ball (2021) was selected to over ten film festivals, including Brno16 and FIRST International Film Festival. His latest series Tales in the Dark was selected for the Taipei Golden Horse Film Project Promotion. He enjoys mysterious and fantastical themes, aiming to highlight a certain truth about the world while presenting unconventional subjects.
Credits
Director

: QIAN Ning

Principal Cast

: HOU Co-Co, SUN Qing

Producer

: CHANG Chia-Tzu

Screenplay

: QIAN Ning

Cinematographer

: Wen LAU

Production Designer

: CHEN Hsuan-Shao

Editor

: YU Shing Fung

Sound

: ZHANG Boren

Music

: Luca Bonaccorsi