Up All Night
熬夜
Andrew The-Anh LUK
15 mins | 2023 | Fiction | English, Korean, French | English Subtitles
Toronto Premiere
In-Person Q&A with Director
Content advisory: this film contains tobacco use.
When Jay fails to audition in a K-pop group, his uncertain future is only prolonged in the comfortable city of Montreal. While the people around him have different undercurrent thoughts about him, his only pillar of confidence lies in his whimsical personality.
Director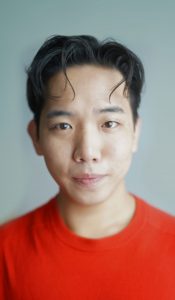 Andrew The-Anh LUK is a Canadian Chinese-Vietnamese filmmaker from Montreal. His creative influences are diverse, ranging from fanciful and campy Asian films to more introspective works and documentaries. He is particularly interested in showcasing ambiguous corners of the Asian diaspora through a variety of themes, tones, and emotions on the big screen. His journey as a filmmaker was ignited by the disturbing events that unfolded in the wake of the surge in anti-Asian sentiment, notably the Atlanta Spa shooting in 2021, where he directed a short documentary on this pressing societal issue.
Credits
Director

: Andrew The-Anh LUK (In Attendance)

Principal Cast

: JAE Yong Kim, Sumin LEE, Jennie YOO, Angeline Bisson, Duy TRAN, Dami KANG

Producer

: Andrew The-Anh LUK, Vera Aloh, JAE Yong Kim, JEONG Ung Song

Screenplay

: Andrew The-Anh LUK

Cinematographer

: Vera Aloh

Production Designer

: Andrew The-Anh LUK, Vera Aloh

Editor

: Andrew The-Anh LUK

Sound

: Jason MA, Elsasoa Jousse, Saski Miller

Music

: Christine LUC